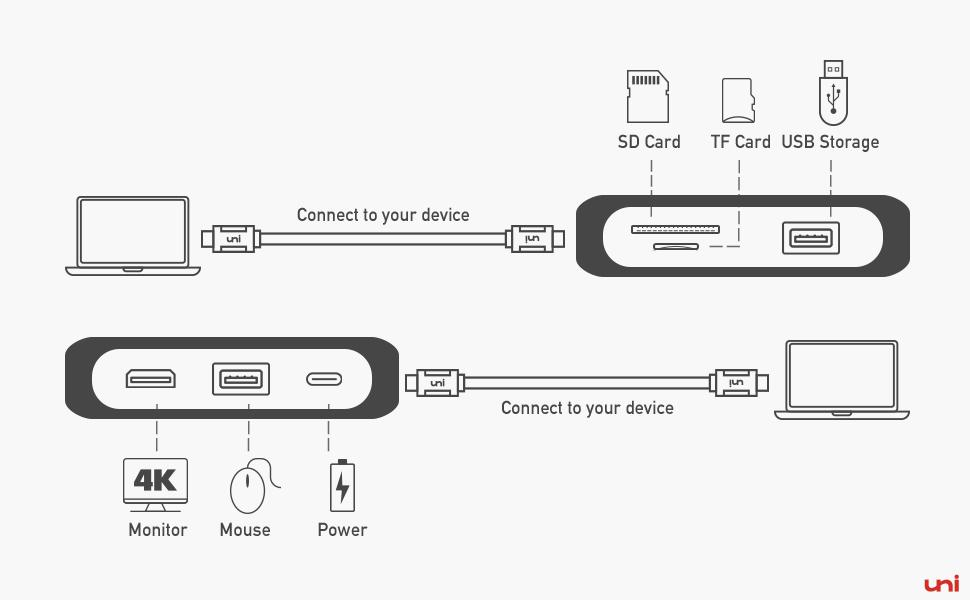 THOUGHTFULLY ARRANGED PORTS
RUGGED CASE
Removable rubber cover provides superior grip on any surface and enhanced protection against damage from accidental drops.
More protection while on the road.
REMOVABLE 8'' LONG CABLE
High-quality connectors provide you a snug connection for stable signal transfer.
Easy to carry, no need to wrap the built-in cable. Long cable perfect for you working on a stand. *The attached cable is designed for uni's hub.
THOUGHTFULLY ARRANGED PORTS
Front Ports for frequent access - easy swappable
SD cards, Micro SD cards, Flash drives, SSD, and peripherals.
Rear Ports as a docking station - only plugin once
Connect to your power source, monitor, network, and peripherals.
PLUG-N-PLAY
Leave all peripherals at your desk, hook them up when needed.
Grab your laptop and go when you need to.
Avoid plugging cables over and over again.
SYMMETRIC DESIGN
With the symmetric design, you can maintain the same easier plug and unplug design while using the hub on either side of your device.